This will be the second update on my CPH. Last two weeks I finished the hood and the buttonband.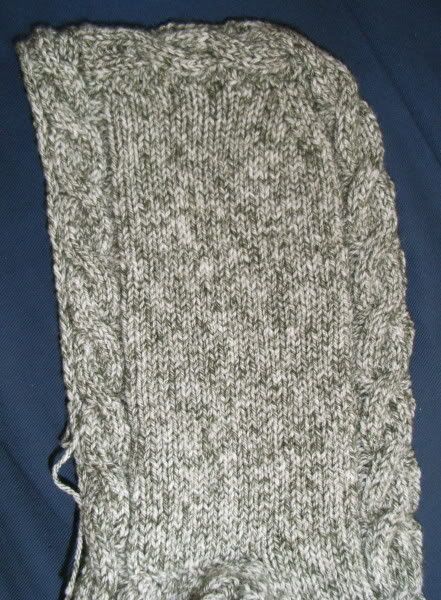 For the hood I decided to
continue with the cable from the back
. But after some time I realised that the cable will end in exactly that corner of the hood, that is not shown, if the hood lies on my shoulder. So I decided to modificate the hood a little, stop some time earlier for the stockinette region and continue just with the cable and in every new row I knitted together the last stitch from the cable with one stitch of the hood. (I sounds complicated in english ... I hope you understand what I mean).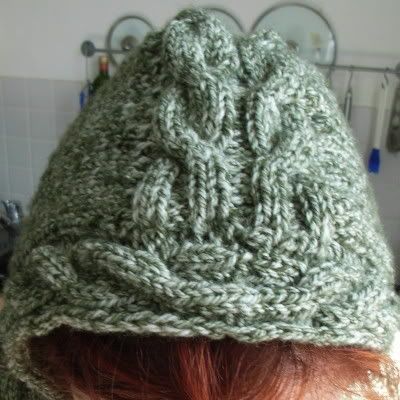 It was quite hard to finish - especially the cross with the front-band cable was quite difficult. That is why it looks a little crumpled, but I think it's ok. (My first idea was to twist the "back cable" with the "front cable" But I had no clue, how to do this.)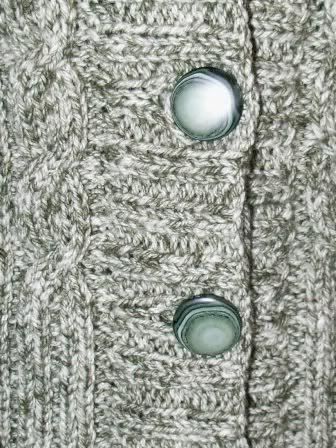 After that I continued with the buttonband. I did it the same way
Shameka
described
here
. So I took 3 stitches for 4 rows and after all I had
316 stitches on my needle.
It's surprising how long it can take to knit just one row, if this row has this many stitches. The buttonband is nearly 3 inch wide. The buttonholes are over 4 rows, which is perfect for my nice green buttons.
Last but not least I will give you an impression of my hoodie, although the sleeves are still missing: