Hi everyone,
I just started blogging last week and knitting is my new obsession since octobre last year. The CPH is my first project that is bigger than a hat or socks. I call it Clara Park Hoodie, because I live in
Leipzig - Germany
and our biggest park is Clara-Zetkin-Park. (And I'm sorry for mistakes - I'm not a native speaker especially not in knitting language - but I do my best)
It took me some time to find a yarn in a nice colour and quality. The best I found was "Schachenmayer Trachtenwolle - loden meliert". It's kind of mottled dark green new wool. And I use Knit Pick Harmony Wood needles in 5mm (size 8).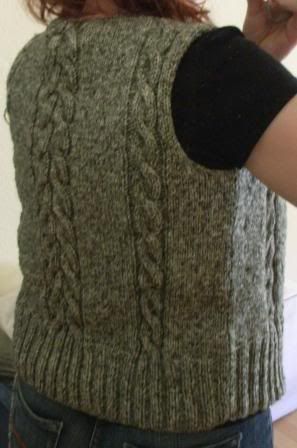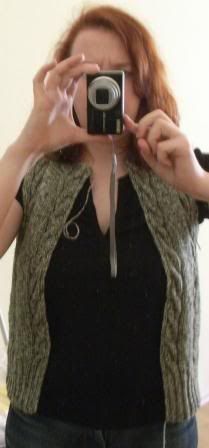 I started 10 days ago and I'm very suprised how fast it grows. I already finished the back and the two fronts. And I could not resist and closed the parts to see how it fits. I knit the CPH size 40 (my bust in inch fits this size).
I think the back is ok. It's close-fitting (maybe too close?) but I decided to be satisfied. Fortunately its flexible and at the moment it does not stretch, if I wear it.
But for the front - I know there is still the band to knit, but it seems to be too small. I mean, if I stretch it, it can fits, but without any help it's wide open.
At the moment I decided to go on with the hood instead of the sleeves - as soon it is finished I can knit the front band. I want to include buttonholes and if I still have the feeling, that it is to small I will make a wider band.
You can also read about me and my Clara Park Hoodie in my
german blog
or look at
some more photos
.